Christmas should be about spending time together, you can have fun at home making the house look festive without breaking the bank….here are some ideas that we have either tried and tested or will be this Christmas.
Salt dough decorations. Easy and lots of fun plus you get something for your tree or to give to relatives for their Christmas trees! Here's a recipe for salt dough
Paper chains – a quick and easy way to decorate your home. The kids can get involved with the making too…or make a paper chain snowman – we have put jokes in the inside of ours to help countdown to Christmas.
Knock Knock. Who's There? Arthur. Arthur Who? Arthur any mince pies left
What hides in your house at Christmas time? Mince Spies
Did you know the three wise men came from Yorkshire? The Bible says they came from the East Riding on a camel 🤣
What happened to the elf who ate too much tinsel? He got tinselitus.
What do you call a three legged donkey? A wonky!
Knock Knock. Who's There? Anna. Anna who? And a partridge in a pear tree
Why did the snowman win an award? …..because he was outstanding in his field ⛄️
Crackers – fun and cheaper to make your own crackers. Quick save those loo rolls! Here's some jokes:
What do Santa's helpers learn at school? The Elf-a-bet
What is the best present in the world? A broken drum, you just can't beat it
What do you call Santa Claus when he doesn't move? Santa Pause
Why is Rudolph always wet? He's a reindeer
One snowman said to another snowman: "I smell carrots!"
What do you call an igloo with a radiator? A puddle
What do you get if Santa goes down the chimney when a fire is lit? Krisp Kringle.
What goes oh, oh, oh? Santa walking backwards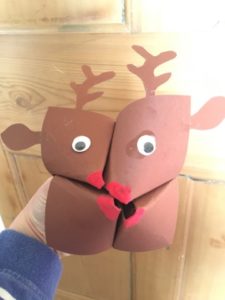 Reindeer Puppets – we've had loads of fun with this….in our fortune teller we put the following
Dance like an Elf
Pretend to be a reindeer
Sing your favourite Christmas Carol
Shake your belly like a jelly!
Say HO HO HO like Santa
Sing Jingle Bells
What would you like for Christmas
Name 3 reindeer
Festive hand and foot print keepsakes. We did this and it is now displayed. We also did some Mr and Mrs Reindeer's for our Christmas card one year. The poem reads as follows…
There used to be so many
Of our fingers prints to see
On furniture and walls and things
From sticky, grubby us
But if you stop and think awhile
You'll see we're growing fast
these little moments disappear
You can't bring back the past
So here is a small reminder
to keep, not throw away
Of tiny hands and how they looked
to make you smile someday
3D paper reindeer – haven't tried this yet but thought he looked awesome!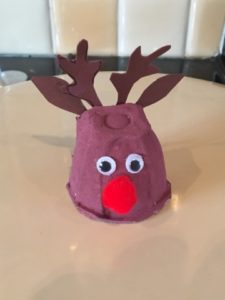 Egg box reindeer – my youngest loved doing this. She set about painting the egg box (after I had cut it up) and we had all discussed how to make "brown". In the meantime, I cut out the antlers and the ears. Once dry, it was just a matter of gluing on the ears, antlers, eyes and nose. We also made some "Christmas Puddings" with just eyes and cotton wool to depict custard being poured over. It wasn't a 100% obvious what they were, hence no photo but we had fun doing them!
Feed the turkey – great for fine motor skills and can actually encourage tidying up so a winner all round! Decorate a bottle to be a turkey or any other festive image and fill with sequins, fluffy balls, crafting bits….
Santa down the chimney – make with loo rolls!
Paper Plate Wreaths and Trees – easy and another one that my youngest really enjoyed as once the cutting out was done, she could do it on her own. Ideal for Miss Independent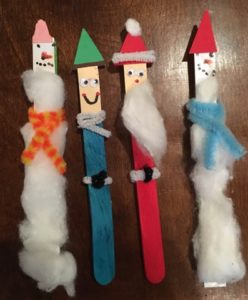 Stickmen with lolly sticks! We made Elves, Santa and Snowmen. The kids loved these, in fact they both say their favourite activity of the day.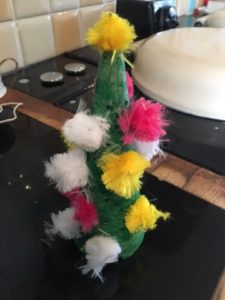 Variety of Christmas Trees to prevent the "Real" thing being decorated by little hands! Paint, loo rolls, card, fluffy balls, sequins, glitter….go for it.
Snowmen from bottle tops, so parents can enjoy a beer the night before then the children can help make the decorations the next day?!
"Snowman Slam" Decorate plastic cups into snowmen, build a pyramid and get a soft ball…..a homemade coconut shy!
Snowman – ideal for younger ones if Mummy has done some cutting out!
Pine cone reindeer! My favourite. Make this great Christmas decoration….love him and so easy. Get involved in a nature walk first collecting the pine cone and the twigs for the antlers. Leaves or paper can be used for ears. Then away you go!
Reindeer lollies, ideal for a party or a bit of fun to hand out to friends. Really easy, cut out the reindeer and stick either side of the lolly….
If you do any others, please do let me know and I will add them. Don't forget to join the Ryedale & The Coast Mumbler Chat Group and share photos either on there or via twitter or Instagram @ryedalemumbler
Photographs are either my own or courtesy of Pinterest