The North York Moors and Yorkshire Dales are a stargazer's paradise, with some of the best night skies in the country.
In an urban area you'll be lucky to see 20 stars on a clear night, but in an area of low light pollution, such as our National Parks, you could see as many as 2,000. 80% of the world's population live under light polluted skies. What do we lose when we lose sight of the stars? Excessive and improper lighting robs us of our night skies, disrupts our sleep patterns and endangers nocturnal habitats. Here in Ryedale, we are so lucky that most of us live rurally so alot of us will be in areas of low light pollution so we may be able to see well from home. What can you see? Visit this page on The North York Moors website but here is a quick summary:
Milky Way
Look directly overhead during autumn and early winter evenings and you'll see this shimmering river of light streaming through the constellations of Cassiopeia and Cygnus. The darker the skies, the more prominent it is to the naked eye.
Northern Lights (Aurora Borealis)
The further north you are and the darker your sky, the more chance you have of seeing the magic of Aurora. The northern lights are certainly visible from the North York Moors, with some good displays seen recently on the coast. You can sign up for alerts, which will give you a few hour's notice:
Aurora Alert – this app predicts possible displays of the Northern Lights in your area
The  displays are caused by energetic particles from the sun interacting with the earth's magnetic field. During intense storms you'll see pillars of light soaring overhead and the sky tinted red and green above the northern horizon.
Stars and planets
Updated every Friday, the Sky Week website provides a digest of what you can see in the sky this week.
The Pocket Universe app for iphones and ipads has plenty of features and star maps (free lite version available too).
Google Skymap – hold up your smartphone to the sky and this app identifies the stars using GPS
Meteor showers
Meteor showers happen at predictable times throughout the year and are best seen when the moon is absent, which will change from year to year.
Look out for the annual Perseids (August), Orionids (peaks in October), Leonids (November) and Geminids (December). Look for 'shooting stars' which move rapidly across the sky before burning up like a firework.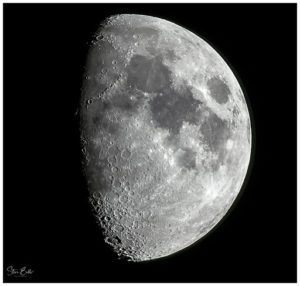 Moon
You'll see the darkest skies when the moon is out of the way – the new moon period – two weeks after full moon, but don't forget how great the moon is in itself, especially full moons and supermoons. The Time and Date website has details of the moon phases.
Andromeda Galaxy
This is the furthest object you can see with your naked eye from the North York Moors – an incredible 2.5 million light years away. To the naked eye it looks like a small faint streak of light below the zigzag shaped constellation of Cassiopeia. Use binoculars and you'll see it's shaped like a rugby ball and fills the field of view. This is another spiral galaxy, similar to our own Milky Way, comprising 300 billion suns and countless planets.
International Space Station
The ISS passes overhead throughout the year. Find out when by going to the Nasa website.
To mark the 50th anniversary of the first moon landing, Dark Skies Festival 2019 will focus on our lunar satellite. From moon gazing events and planetariums to exhibitions and photography workshops, discover the thrills, fun and fascinating science that makes up the night sky. Events and activities are taking place all over the moorland, dales, coast and Howardian Hills.
The full Festival programme is available on our Dark Skies Festival website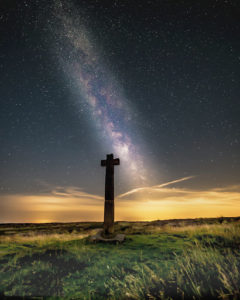 Some of the festival events need to be booked and some are sold out. However, there are some that are drop-in events and events with spaces.
15th February  – 3rd March – "Why Stars Matter" Trail in Dalby Forest
19th & 26th February – Planetarium in Dalby Forest
23rd February – 3rd March – 'Have-a-go' Holidays – Dark Skies at Sutton Bank National Park Centre
25th February – 3rd March – Astro Treasure Hunt at The Moors National Park, Danby
16th& 23rd February and 2nd March – Go Ape! Night Zip
Friday 21st February – 'Saving the Dark' Film Screening and Star Party: Sutton Bank National Park Centre
Tuesday 26th February – Moon Making Madness – The Moors National Park, Danby
Tuesday 26th February – Perfect Planets: The Moors National Park, Danby
Wedensday 27th February – Rockets & Aliens: Sutton Bank National Park Centre
Saturday 2nd March – Dark Skies at Danby
Saturday 2nd March – Dark Skies at Sutton Bank
Do remember that it is likely to be cold so appropriate clothing and footwear is essential. Wrap up warm especially for evening outdoor activities! A torch could be useful too.