To plan your VE Day celebrations at home VE Day 75 and English Heritage have developed some toolkits, which include recipes, posters, dance moves and a Spotify playlist for you to use, find all the details HERE . ARTventures is hosting  The Big Neighbourhood V.E Day 75 Family Festival at Home!, running a free programme of online sessions during the course of the day of Friday 8th May with lots of our favourite children's activity providers taking part so that you can enjoy a fun-packed festival timetable.
We also have lots of ideas on how you can celebrate with the family below.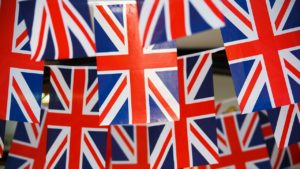 Create your own Red, White & Blue Bunting
Give your party a BRITSH theme with your own designs of red, white & blue bunting! There is a great free bunting template which you can download here. Grab your paints, crayons, pens and crafting materials and get busy! Once the designs are complete simple cut the flags and attach together with ribbon or string!
Design your own VE DAY Party Hat and have a competition for the best design!
This one will have to be done in advance.
Grab some old newspaper, PVA glue, some balloons and some paint and create your own party hat from Papier-mache!! For a top hat try using a flower pot covered in cling film for your mould!
Blow up the balloons to slightly bigger than head size
Cover the top of the balloon in the newspaper and PVA glue. Add 2 -3 layers. This will take around 2 days to dry.
Once the hat is dry pop the balloon or remove it from the cling film.
To add a brim to your hat simple take your dry moulded hat and place on a surface covered in cling film. Set the hat at the centre so you can papier mache around it. First, add long paper strips around the hat to fix it in place on the brim. Build the brim with 3 layers of papier-mache.
The brim doesn't need to be flat, it can be moulded into any shape you wish!
Make a bonnet brim by placing 4 cans underneath the rim.
Make a Cowboy hat brim by using something to hold up the edges as the papier-mache dries.
Use a tray covered in cling film as your surface to and papier-mache up the rims of the tray to create a  lip around your brim.
Paint your hat or you could use crepe paper or wrapping paper to cover it!
Add feathers, ribbons, flowers or even stickers to your hat!
Have a Picnic
Set out the picnic blanket in the garden (if the sun is shining!!) or in front of the telly and enjoy some best of British favourites! You could even add some of our…
Red, White & Blue Baking Idea's
Get the aprons out and whip up a storm (or a flour cloud!) in the kitchen with the kids!
These are our favourite recipes for Royal Wedding themed goodies.
Blush Meringues try using food colouring to make red and blue meringues!
Red, White & Blue Strawberries are perfect to make with your littlest ones.
Red, White & Blue Swirl Cookies 
Red, White & Blue Cupcakes these might be aimed at 4th July but there's no reason you couldn't enjoy these at a Royal Wedding Party! You could even have a royal wedding (cup) cake competition!
Or for the quintessentially English try adding blueberries to your Strawberries & cream or try blackberry jam on your scones!
Try your hand at 1940's baking!
There are lots of recipe ideas online to take you back to the 1940s. Here are a few of our favourites!
Apple Crumble
Bread & Butter pudding
Oaty Biscuits
Fancy Dress Theme
We all know how kids love to dress up at any occasion so why not have the kids don their best WW2 outfits or they could come in their military uniforms, as knights or their Sunday best!
Party Games
Put a spin on the traditional party games with these fun ideas!
Air Raid Statues. Like Musical statues but instead of pausing the music play air raid sounds instead. Use Air Raid sounds on YouTube and gets the kids to dance around, freezing when the air raid plays
Pass the parcel – have the parcel wrapped in newspaper or parcel paper for an authentic take
1940's Bingo: Rather than using numbers have 1940s films, icons or events there is a great guide here
The Soldier Says… a VE Day themed take on Simon says!